Warning: The article below features HIGHLY GRAPHIC content that is likely to offend or upset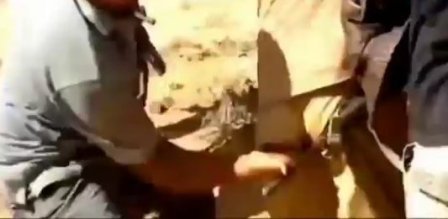 From CBS World Watch
A frame by frame analysis of this exclusive GlobalPost video clearly shows the rebel trying to insert some kind of stick or knife into Gaddafi's rear end.

GlobalPost correspondent Tracey Shelton said there is some question as to whether the instrument was a knife from the end of a gun, which Libyans call a Bicketti, or a utilitiy tool known as a Becker Knife and Tool, which is popularly known as a BKT.

This latest video discovery comes as international and human rights groups call for a formal investigation into how the former Libyan leader was killed. In video clips that have emerged of his capture, Gaddafi can be seen injured but alive. Later he is seen with what appears to be gunshot wounds to his head and chest. According to the Geneva Conventions, however, abuse of prisoners under any circumstance is not permissable
I think that'd be enough already to talk about Muammar Gaddafi's death and all knew that he'll be buried somewhere in secret desert which i dont really bother. What bothers me is that a video/ footage taken by a cellphone showing that Muammar Gaddafi, a libyan leader, being sodomised by a metal or some stick that has been widely talked among the internet users.
Muammar Gaddafi met his demise, as per report claims, in the crossfire as his supporters clashed with revolutionary forces seizing control of his hometown of Sirte. Well the investigation wil continue as to how Muammar Gaddafi died.
Let's take a look at the video. This video might offend some of you guys hence, see it at your own risk!!
Please CLICK HERE to SHARE ON FACEBOOK